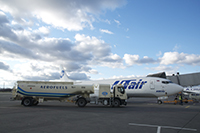 Investments amount will constitute more than 180 mln.rubles.
Group of companies Aerofuels pays much attention to high quality standards of aircrafts refueling and continues to provide the Russian airports with up-to-date refuelling equipment by enlarging and renovating aerodrome refuelers fleet at the company refueling complexes. In the first quarter of 2014, refueling complex of Kirov airport received another new refueler. Modern refuelers satisfy all Russian and international requirements for aircraft refuel.
Generally, in 2014 Aerofuels plans to add 10 new aerodrome refuelers to their refueling complex chain with investments amount of more than 180 mln. rubles. Orders are being placed at the Russian manufacturers' which products have showen good results in different operating and climatic environment in the Russian airports. All refuelers are equipped with reliable components of both local and foreign manufacture.